Mixing service
Genre specific
Different music styles need different mixing and mastering approach. What goes for rap, is not good for sclager or Heavy Rock. These are things that are learnt by experience and by working many years. Whatever your genre, we promise to take care of your song accordingly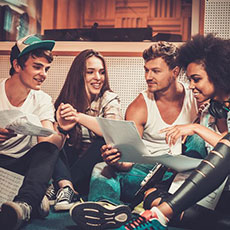 Client first
Your music is very important to you. We understand this fully and we will do everything from the clients perspective and transparently. This means, you get your mix or master to listen and evaluate before you pay anything. If any changes are required, they are done without any additional costs.
Long experience
KW-Mastering has done music for numerous clients during our operating years. Actually our music career begun already in the 80's. We are a current and mordern music studio.
We always send the mix
to the client for approvement
Additional services
Music production

Do you have an musical idea and you need help to fullfill it? Whether your genre is pop, rock, RNB, punk or rap, we can help you compose the song from the beginning to end.

Restauration

We have successfully made restaurations of old recordings and cleaned up live performances from unwanted background noise. Contact us to learn more!

Mastering

We listen to the song carefully and do the mastering according to genre and the mix. All work is done "by hand" without using any of the now available automatis mastering plug-ins!

Recording

Our recording gear is first class and world class (microphones and preamps). No compromises have been made with any of our choices.
Music production
Rap
We can make a beat for you and then we record your vocals in our studio. The result is mixed and mastered here at KW-Mastering studio. Or you can bring your own beat and the vocals are recorded in a good studio environment. Then we mix and master the result for you.
Song recording
Are you looking for a studio where you could get good results with top class microphones in an friendly and nice athosphere?
Music projects
We help artists constantly with different music productions. We can prepare your idea and song from start to finish and everything in between!
With satisfaction guarantee
We want you to be and feel happy when you choose us to produce your music. All work is done complitely transparent and honestly at all stages of the production.
KW-Masterointi
Kuurintorpantie 1 J
02750, Espoo, FINLAND